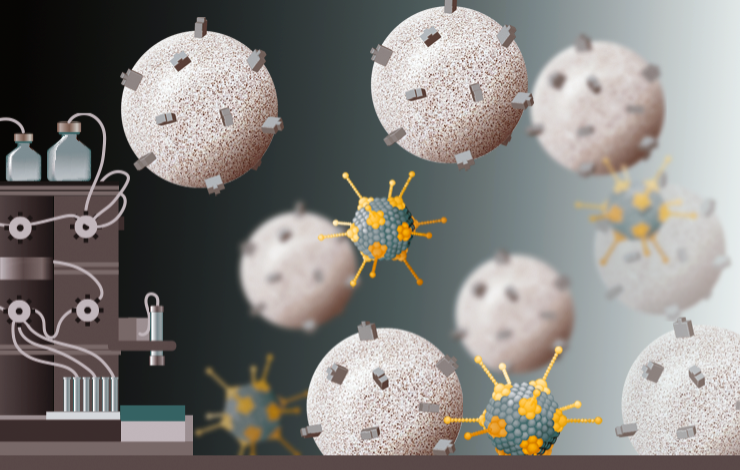 Affinity interaction based resins are the foundation for the platform purification of many different biological molecules. While some AAV affinity resins have existed for more than a decade, the growth in the AAV field now demands a true pan-affinity workhorse, analogous to Protein A for mAbs. In this work, Daniel Hurwit, Voyager Therapeutics, investigates POROS CaptureSelect AAVX (AAVX) for the purification of various serotypes from both crude and pure feed streams. Performance of AAVX is directly compared against other commercially available AAV affinity resins for qualities such as binding capacities, binding kinetics, product recovery, impurity clearance, washing and elution strategies, cleanability, cyclability, regeneration as well as the scalability and suitability of the new resin for commercial manufacturing. The results demonstrate that the new AAVX resin is a robust option for the scalable, platform purification of various rAAV capsids from crude feed streams.
Watch this On Demand Webinar with Daniel Hurwit, Process Development, Voyager Therapeutics to hear about:
The history, development, and mechanism of action of AAV affinity resins;
Comparability of the leading AAV affinity resins across numerous serotypes in regard to binding kinetics, binding capacities, product recovery and purity, and suitability for large-scale manufacturing;
Easily implementable high-throughput approaches to chromatographic development.
Daniel Hurwit, Senior Associate Engineer, Voyager Therapeutics
Dan is a Senior Associate Engineer at Voyager Therapeutics (Cambridge, MA) focused on rAAV purification process development, technical operations and CMC. Dan earned his Bachelors in Physics and Masters in Biological Engineering from Tufts University. Prior to Voyager Dan worked on purification process development of multitudinous recombinant proteins.